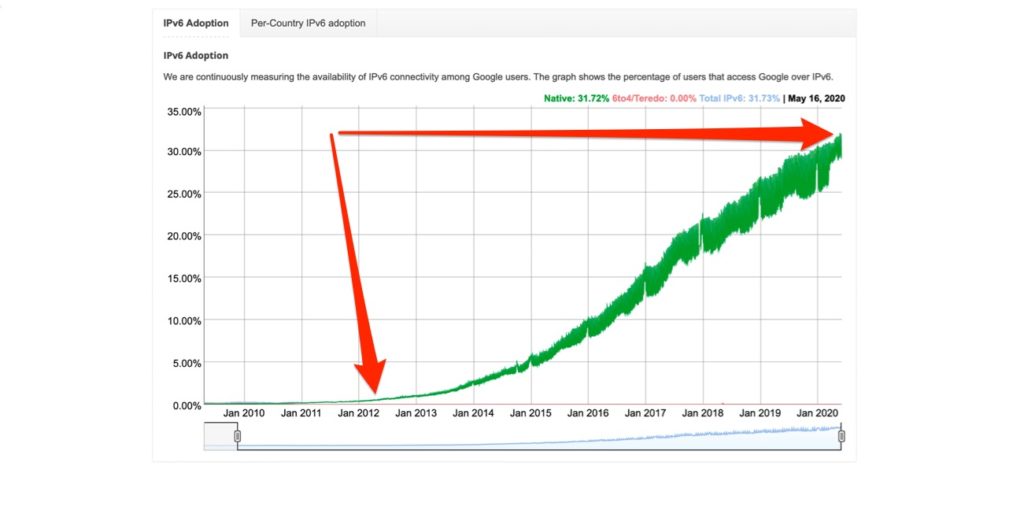 Eight years ago, on June 6, 2012, thousands of companies and organizations came together as part of World IPv6 Launch to permanently enable IPv6 for their websites and networks.
Today, we can see the success! If you visit the World IPv6 Launch measurements site, you can see some amazing numbers:
Reliance Jio's network in India has over 90% IPv6 deployment!
Comcast's huge network in the US is at 73% IPv6.
The combined US wireless carriers are over 85% IPv6.
Deutsche Telekom is over 68% IPv6.
Claro in Brazil is at 62% IPv6.
Another major source of info, Google's IPv6 statistics, show that over 30% of all traffic to Googles sites globally is now over IPv6. If you look at Google's per-country IPv6 adoption, some countries are seeing up around 50% of all traffic to Google's properties going over IPv6.
This is all fantastic to see. But of course, we want more IPv6 deployment!
Specifically, we want more web sites and services available over IPv6. Increasing numbers of IPv6-only mobile networks are being deployed around the world. To ensure that people can reach websites that are still only available over IPv4, many IPv6-only networks use IPv6-to-IPv4 gateways. But we want everyone to be able to reach every website as fast as possible, without having to go through gateways, which can slow down access. So, we need more sites to have native IPv6 connections.
To do this, we need your help!
Is your site IPv6-ready? First, you can test your own web site(s) with the Internet.nl test site.
If Internet.nl says your site already supports IPv6, then congratulations! You are all set to have people connect over IPv6 to your site.
If your site does not support IPv6 yet, as part of our Open Standards Everywhere project in 2020, we are providing documentation to help people operating web servers make their sites available over IPv6.
We would like your feedback on the documents we have so far.
If you operate your own web server running on an actual server or a virtual machine, we have instructions for Apache or NGINX web servers.
If you are using a content delivery network (CDN) in front of your web server, the reality is that many CDNs already support IPv6 by default. We have a list of CDNs we know support IPv6. If your CDN is not on the list, please let us know! And if your CDN does not support IPv6, please let them know that these other CDNs do – and perhaps that you might consider switching.

If you host your web site with a web hosting provider, we are looking to build a list of web hosting providers who do and do not support IPv6 for websites. We have an open issue on GitHub where we are seeking input.
In all of these cases, we would appreciate your feedback. If you use GitHub, you can open a new issue (or reply to a current one). Alternatively, you can send me email or contact me on Twitter.)
With your help, we can create even stronger documentation that can help even more people make their sites available over IPv6!
Want to be more involved with the Open Standards Everywhere project?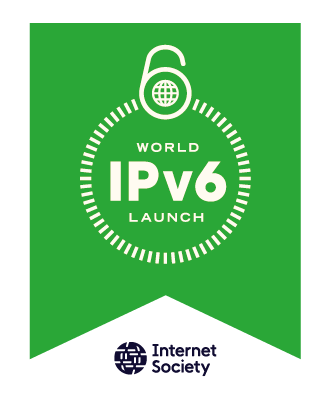 The post On this 8th World IPv6 Launchiversary, Help Us Get More Websites Available Over IPv6 appeared first on Internet Society.