Want to see amazing Olympic-level curling live over the Internet?  The World Curling Federation is streaming the Olympic Qualification Event live via YouTube.  The schedule is online and runs from today, December 10, through Sunday, December 15, 2013. I saw part of the first Korea vs. Japan game today and it was excellent!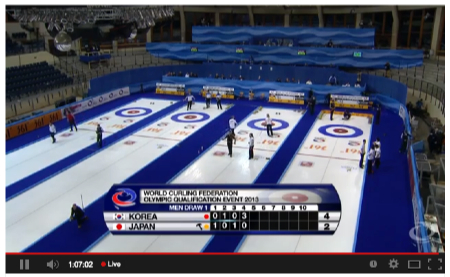 This is the first time this "OQE" event has been run as a way to identify the last two teams that will compete in the 2014 Sochi Olympics. Essentially, there are already 8 curling teams qualified for the Sochi Olympics and this event is a chance for everyone who hasn't already qualified to potentially earn one of the last two spots. The USA already qualified for the Women's event but the USA Men's curling team is in this event vying for one of the two men's teams.
Note that the times on the schedule of games are in Central European Time, which is currently 6 hours ahead of US Eastern time.
Tune in to watch some excellent curling!  And then… if you'd like to see the sport of curling brought to southwestern NH, help us get the word out and let us know you are interested!