Given that today is "Cyber Monday" the folks at O'Reilly are naturally joining in and offering a 50% discount on ALL their ebooks and discounts. All you need to do is go visit:
where you can learn more. Basically, you can use the discount code "CYBERDAY" when you check out – anytime up until 11:59 pm US Pacific time tonight.
You can naturally order "Migrating Applications To IPv6 or any other IPv6-related ebook… although in truth you can use the code for ANY ebook.
The great thing about buying from O'Reilly is that all ebooks are DRM-free, so you are not locked in to using them on any particular devices.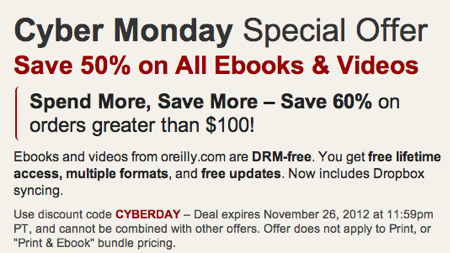 If you are looking for some good technical ebooks, today is a great day to do some shopping!