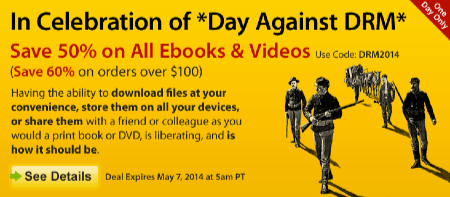 In celebration of the "Day Against DRM", O'Reilly is running a sale of 50% off of all their ebooks and videos. All you have to do is go to their site and shopfor ebooks … that's it!
As I note on my page about buying the book, I'm a big fan of buying directly from O'Reilly because the ebooks are DRM-free andyou get free updates and more.
DRM only hurts us as readers … and as an author I don't want my readers locked into specific platforms. I'd like readers to be able to read my books on whatever device they want whenever they want.
As the site says, DRM is TOXIC to our freedom!
So… if you have been thinking about buying some O'Reilly ebooks – mine or anyone else's – please buy them today and help spread the word that we as readers want our ebooks without DRM!
Thanks!
P.S. My "Seven Deadliest Unified Communications (UC) Attacks" book is also on sale today in ebook form through O'Reilly after O'Reilly started carrying the ebook version of 7 Deadliest UC Attacks last year.
P.P.S. Please note the 50%-off sale ends on May 7, 2014, at 5:00am US Pacific time.