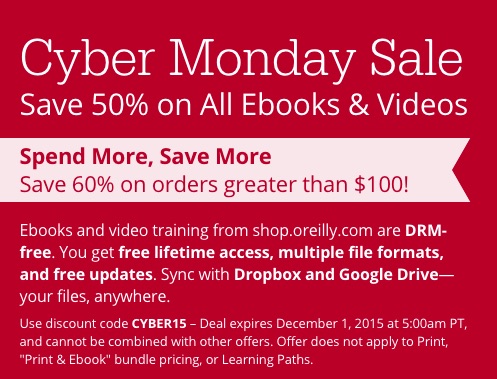 Today you have a great opportunity to buy "Migrating Applications to IPv6" and hundreds of other ebooks and videos from O'Reilly and associated publishers at a discount of 50% off or more. Simply go to:
and start shopping! Or you can go directly to the book's page at O'Reilly at:
As I've mentioned in the past, buying direct from O'Reilly offers multiple excellent benefits, including:
DRM-free – no stupidity with license restrictions.
Free lifetime access
Multiple formats (ex. ePUB, PDF, Kindle, etc.)
Free updates
Sync with Dropbox and other similar services
… and more!  All you do is enter "CYBER15" as the promotion code when checking out.  The deal expires on Tuesday, December 1, 2015 at 05:00 US Pacific Time. Do note that this sale is for ebooks and not for the print versions of the books.
IPv6 deployment is accelerating – make sure that your applications and networks are ready for the IPv6 Internet!
P.S. My "Seven Deadliest Unified Communications Attacks" book is also on sale as an ebook at O'Reilly's site… if you are interested in voice-over-IP (VoIP) security, please do check that book out, too.